Owing to the screen size of your device, you may obtain a better viewing experience by rotating your device a quarter-turn (to get the so-called "panorama" screen view).
About Us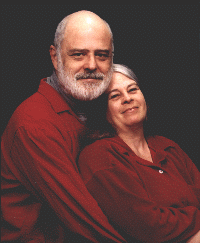 We are Eric Walker and Lynn Walker. We have several diverse interests, which are reflected in the several quite different web sites we try to maintain (it's forever a juggling act, with most of those sites behindhand at any given moment). You can see the whole menu at our main site, Owlcroft (which also includes links to personal sites for each of us).
Of the lot, one is especially closely related to this one, in that if we grow vegetables, it follows that we have to cook some of them, and there is no better method of cooking than an induction cooktop--so we run The Induction Site, which is all about what induction is, why it is so superior to everything else, and who makes the equipment.
That's us!
---
If it amuses you, try to guess which is the one of us who--
was nauseated by a forcibly administered onion-juice/whiskey "cough syrup" as a child?
hates the strings on celery?
wants to grow pears?
is 5'1" crown to toe? (So you'll have one question you can't miss.)

Return to the top of this page.




If you find this site interesting or useful, please link to it on your site by cutting and pasting this HTML:
The <a href="http://growingtaste.com/"><b>Growing Taste</b></a> Vegetable-Gardening Site


--Site Directory--

Search this site, or the web
Background Information about the purposes and design of this site

Introduction
An Apologia: why one should cultivate one's garden
Deep-Bed Gardening (forthcoming)
Container Gardening (forthcoming)
Vegetarian and Organic Considerations (forthcoming)




Recommended Crops for a home garden, by variety


Gardening information and aids


Miscellaneous Information of interest to the home gardener


Books on "Vegetables"

In association with The Book Depository, we offer a library of books on vegetables, including books on growing, specialty cookbooks, plus a few related odds-and-ends books on the topic of vegetables, available for purchase from The Book Depository (never any shipping charges added).
Since you're growing your own vegetables and fruits, shouldn't you be cooking them in the best way possible?
Visit The Induction Site to find out what that best way is!
If you like good-tasing food, perhaps you are interested in good-tasting wines as well?
Visit That Useful Wine Site for advice and recommendations for both novices and experts.
This site is one of The Owlcroft Company family of web sites. Please click on the link (or the owl) to see a menu of our other diverse user-friendly, helpful sites.
Like all our sites, this one is hosted at the highly regarded Pair Networks, whom we strongly recommend. We invite you to click on the Pair link (or their logo) for more information on getting your site or sites hosted on a first-class service.
All Owlcroft systems run on Ubuntu Linux and we heartily recommend it to everyone--click on the link for more information.
---
So that you need not be a victim of the "Browser Wars," we have taken the trouble to assure that
this web page is 100% compliant with the World Wide Web Consortium's
XHTML Protocol v1.0 (Transitional).
You can click on the logo below to test this page!
Not every browser renders proper HTML correctly (Internet Explorer famously does not);
We strongly recommend the widely praised free, multi-platform Firefox browser.
Click on the image below to read all about it.



(It's free!)
You loaded this page on Friday, 14 December 2018, at 02:15 EST.;
it was last modified on Wednesday, 1 July 2015, at 19:29 EDT.
All content copyright ©1999 - 2018 by The Owlcroft Company