Owing to the screen size of your device, you may obtain a better viewing experience by rotating your device a quarter-turn (to get the so-called "panorama" screen view).
Freeze Data: Ritzville, Washington
(Note that all data are the most recent available.)
What Is "Freeze"?
The freezing point of water is 32° Fahrenheit (or zero Centigrade): so much everyone knows. But the definition of a "freeze" for gardening purposes is not so simple; worse by far are the utterly (and literally) vital questions of what constitutes a "first-frost date" and a "last-frost date".
As all informed sources agree, there is no precise definition of a "killing frost" because different plants react to cold in different ways. One can find various approximations in the literature; here is one set commonly found:
Light freeze: 29° F. to 32° F. - frost-tender plants are killed, but there is little damage to other vegetation.

Moderate freeze: 25 ° F. to 28 ° F. - wide destructive effects on most vegetation, with heavy damage to fruit blossoms and frost-tender and semihardy plants.

Severe freeze: 24 ° F. and colder - damage to almost all plants.
In the charts below, there are probabilities given for several minimum temperatures: 36.5°, 32.5 °, 28.5 °, 24.5 °, and 20.5 °. While the purpose of this page is to give you information from which to draw your own conclusions, it is worth taking a moment to consider what a "growing season" is, so that those in other areas can apply the same methodology to their particular data.
Let us first look at using 32.5° as our standard for a "frost". What then? Well, as one source noted, "In the historical weather data, a frost occurred after the official last-frost date 10% of the time." That implies that official "last-frost" (and, presumably, "first-frost") dates are set by the 90% probability date, which makes sense: there is little value in using the absolute historical worst-ever dates, because those will be quite rare. When we look at the tables below, then, we are looking for the 10% probability dates, because that means that 90% of the time those will mark the first or last (as may be) frost dates. On that basis, we see 6/2 as the 90% probable date for last frost and 9/17 as the first frost; the interval, our "frost-free days" period, would thus be 106 days, which is not a lot.
If we change our standard for "frost" from 32.5° to 28.5°, on the ground that we are concerned with "light to moderate" freezes as defined above, the dates and count become (again from the tables) 5/16 to 11/1, which is 168 days. That is much nicer, but remember that it does not apply well to "frost-tender" plants, which is the sort we are usually most concerned with when looking for long growing seasons.
An interesting sidelight on the different bases we use as "freezing" is the growing-season "center" date. At 32.5°, the half-way date is 7/25; when we use 28.5°, that date shifts materially, becoming 8/8. In other words, the early and late frost dates are not symmetrical: the early date changes by 17 days, while the late date changes by 45 days. Thus, if we want to take chances with our plantings, we are better to take our risks on the end date rather than the start date. Putting that in practical terms, don't rush your early plantings.
If you review the vegetable-type choices set forth on this site, you will find few or (as best we recall without looking at each) none with a growing season over 106 days in length. It thus behooves us to be conservative and assume June 2nd as a "last-frost" date and September 17th as a "first-frost" date when planning our planting and transplanting dates. Indeed, combining the ideas that we are best to minimize risks at the front end and that 106 days is more than anything we are planting is going to need, we are perhaps even better off to take something like June 7th or so as the "last-freeze" date in our reckonings.
(Of course, what date to use for those cool-weather crops for which the general advice is to plant out "as soon as the ground can be worked" is another matter yet.)
Spring Freeze Probabilities
Probability of Overnight Low Temperature Less Than X, by Date
Temperature °F.
Earliest
90%
80%
70%
60%
50%
40%
30%
20%
10%
Latest
36.5
05/10
05/17
05/21
05/30
06/06
06/09
06/14
06/19
06/29
07/01
07/18
32.5
04/04
04/26
05/05
05/09
05/12
05/16
05/20
05/25
05/29
06/02
06/13
28.5
03/17
04/13
04/16
04/26
04/28
05/02
05/05
05/06
05/11
05/16
05/29
24.5
02/08
03/06
03/19
03/28
04/05
04/11
04/15
04/18
04/25
04/30
05/29
20.5
01/03
01/31
02/12
02/16
03/03
03/04
03/09
03/23
03/30
04/18
04/30
For example, on May 5th there is a 70% chance that the nightly low will be at or below 32.5 °F., but by June 2nd there is only a 10% chance of seeing an overnight low below that temperature. For temperatures in between those shown, one can interpolate by gosh and by golly, or check this graph of the full data.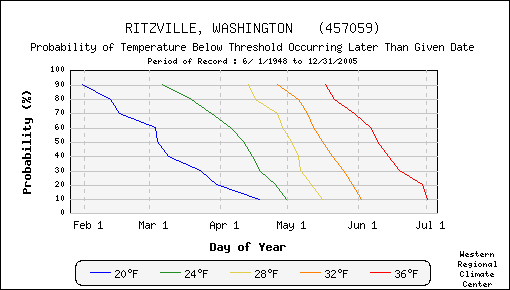 ---
Fall Freeze Probabilities
Probability of Overnight Low Temperature Less Than X, by Date
Temperature °F.
Earliest
10%
20%
30%
40%
50%
60%
70%
80%
90%
Latest
36.5
08/18
09/05
09/08
09/15
09/17
09/20
09/22
09/26
10/01
10/06
10/18
32.5
08/23
09/17
09/21
09/23
09/27
09/29
10/02
10/07
10/14
10/17
10/24
28.5
09/14
09/26
10/03
10/08
10/11
10/15
10/17
10/22
10/27
11/01
11/17
24.5
09/24
10/13
10/17
10/25
10/30
11/03
11/05
11/09
11/13
11/17
12/07
20.5
10/09
10/28
10/31
11/06
11/11
11/15
11/21
11/25
11/30
12/12
**/**
**/** = there has been a year when the minimum temperature didn't go below the threshold temperature during the July 31 to Dec. 31 period
For temperatures in between those shown, one can interpolate by gosh and by golly, or check this graph of the full data.
---
Freeze-Free Probabilities
Probable Length of "Frost-Free" Season For Various "Frost" Temperatures
Temperature °F.
Shortest
90%
80%
70%
60%
50%
40%
30%
20%
10%
Longest
36.5
40
71
81
90
99
105
108
115
123
133
155
32.5
84
115
120
128
133
135
139
145
149
166
183
28.5
120
140
152
158
164
170
175
178
182
190
229
24.5
149
171
184
197
203
209
212
222
230
249
262
20.5
183
206
231
239
243
251
261
279
284
306
***
*** = there has been at least one year when a minimum temperature below the threshold was not recorded
For temperatures in between those shown, one can interpolate by gosh and by golly, or check this graph of the full data.

Return to the top of this page.




If you find this site interesting or useful, please link to it on your site by cutting and pasting this HTML:
The <a href="http://growingtaste.com/"><b>Growing Taste</b></a> Vegetable-Gardening Site


--Site Directory--

Search this site, or the web
Background Information about the purposes and design of this site

Introduction
An Apologia: why one should cultivate one's garden
Deep-Bed Gardening (forthcoming)
Container Gardening (forthcoming)
Vegetarian and Organic Considerations (forthcoming)




Recommended Crops for a home garden, by variety


Gardening information and aids


Miscellaneous Information of interest to the home gardener


Books on "Vegetables"

In association with The Book Depository, we offer a library of books on vegetables, including books on growing, specialty cookbooks, plus a few related odds-and-ends books on the topic of vegetables, available for purchase from The Book Depository (never any shipping charges added).
Since you're growing your own vegetables and fruits, shouldn't you be cooking them in the best way possible?
Visit The Induction Site to find out what that best way is!
If you like good-tasing food, perhaps you are interested in good-tasting wines as well?
Visit That Useful Wine Site for advice and recommendations for both novices and experts.
This site is one of The Owlcroft Company family of web sites. Please click on the link (or the owl) to see a menu of our other diverse user-friendly, helpful sites.
Like all our sites, this one is hosted at the highly regarded Pair Networks, whom we strongly recommend. We invite you to click on the Pair link (or their logo) for more information on getting your site or sites hosted on a first-class service.
All Owlcroft systems run on Ubuntu Linux and we heartily recommend it to everyone--click on the link for more information.
---
So that you need not be a victim of the "Browser Wars," we have taken the trouble to assure that
this web page is 100% compliant with the World Wide Web Consortium's
XHTML Protocol v1.0 (Transitional).
You can click on the logo below to test this page!
Not every browser renders proper HTML correctly (Internet Explorer famously does not);
We strongly recommend the widely praised free, multi-platform Firefox browser.
Click on the image below to read all about it.



(It's free!)
You loaded this page on Sunday, 16 December 2018, at 14:19 EST.;
it was last modified on Wednesday, 1 July 2015, at 19:29 EDT.
All content copyright ©1999 - 2018 by The Owlcroft Company